Claude Parrish
for Orange County Assessor
Why Claude Parrish?
Recognized as one of California's leading taxpayer advocates, Claude Parrish fought effectively for Orange County residents for eight years as their elected member of the State Board of Equalization, the state's top tax authority. After working at the State level, Claude Parrish is running for the Office of Assessor for Orange County, bringing his experience, fairness and honesty to bear specifically for the residents of Orange County.
Critical Reasons to vote for Claude Parrish
1. Claude has the credentials and experience to put the Assessor's
office on the right track
For four years as a member of the State Board of Equalization, he chaired the Board's Property Tax Committee which creates and reviews every property tax regulation in the state. He worked effectively with assessors to improve operations and assure compliance. He has a number of improvements for Orange County residents.
2. Claude is endorsed by those whom taxpayers know and trust
Former Governor George Deukmejian, Congressman Dana Rohrbacher, Board of Equalization Members Michelle Steel as well as Bill Leonard, the Howard Jarvis Taxpayers Association, and the National Tax Limitation Committee lead the list of respected leaders and organizations who have officially endorsed Claude Parrish to be our new Orange County Assessor. See a list of key endorsements.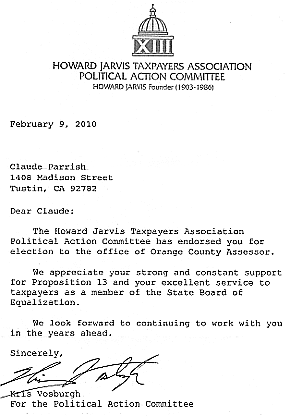 Endorsement by the Howard Jarvis
Taxpayer Association PAC