Claude Parrish
for Orange County Assessor
Claude's Platform
As your newly elected County Assessor, Claude will:
Extend the deadline for tax appeals from September 15th to November 30th, giving taxpayers an additional 75 days to file appeals.
Create a Taxpayer Advocate Office to assist taxpayers with filing assessment appeals and navigating California's complex tax laws.
Establish a south county satellite office in existing county office space, with current local employees, at no additional cost to taxpayers.
Allow taxpayers all lawful exemptions that they are qualified for without undue bureaucratic delays.
In many instances, due to the over billings and errors of the current Assessor, our County had a record high of 25,080 property tax appeals work load in one year. These appeals negatively impact property owners, small business, and seniors, Claude Parrish will, bring accuracy and fairness to the process.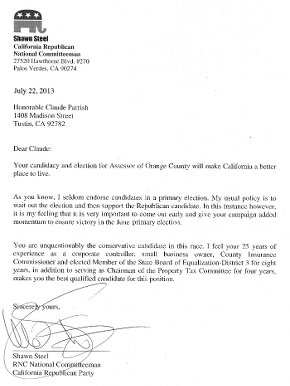 Endorsement by Shawn Steele